---
The Legend of Zelda (Series) - Moonface - Jun 11th, 2019

This thread is for anything related to The Legend of Zelda series, including the news from today's E3 2019 Nintendo Direct!


---
E3 2019: The Legend of Zelda: Breath of the Wild Sequel Announced


A sequel to The Legend of Zelda: Breath of the Wild has been announced during today's E3 2019 Nintendo Direct!


The game has no official title yet, and is currently in development, so it may be a while before we get to play it.


---
E3 2019: The Legend of Zelda: Link's Awakening Trailer and Gameplay


A new trailer has been released for The Legend of Zelda: Link's Awakening, as well as an extended gameplay video from Nintendo Treehouse:










---
RE: The Legend of Zelda (Series) - queenzelda - Jun 12th, 2019

Ah it's such a wonderful time that I live in to have 2 Zelda titles releasing. One this year & the other in probably about 2 would be my guesstimation.


---
RE: The Legend of Zelda (Series) - Moonface - Jun 12th, 2019

I expect BotW2 will be 2021, since the engine, world, mechanics and models already exist to build off of unlike BotW which was completely from scratch. From what the trailer showed, I think the setting will just be BotW but with the world notably changed from the earthquake that occurs at the end of the trailer.

I do wonder though how they'll start Link off though. In theory, he would be pretty strong going in due to the events of BotW, so to put him back down to three hearts and no stamina gauge would be jarring without something happening to strip him of it. If the setting doesn't move, the shrines can't return because it wouldn't make sense for all 120 shrines to suddenly change their interiors.

What I want most from BotW2 right now is more and better dungeons, and a better story. Those were the two weakest parts of BotW for me.


---
RE: The Legend of Zelda (Series) - Dragon Lord - Jun 12th, 2019

Not interested in Yawn of the Wild 2 at all, but it's nice knowing that we have a remake of an actually good LoZ game on the way. Hasn't been any reason to be hyped over LoZ (well, aside from the ALTTP Randomizer) since A Link Between Worlds, so it's nice to actually have a reason to care again.


---
RE: The Legend of Zelda (Series) - Moonface - Jun 13th, 2019


(Jun 12th, 2019, 06:37 PM)

Moonface Wrote:
To expand on this, the producer has said that BotW2 will take place in Hyrule, so I expect that it will just be the same overworld but with changes made to it so that it doesn't just feel like a glorified BotW DLC.

Also, since it's being speculated a lot around the internet, how would people feel about this game featuring co-op or the ability to play as Zelda in a more expanded role than she has had in prior games that she could be played in?


---
RE: The Legend of Zelda (Series) - queenzelda - Jun 13th, 2019

I'd like to play as Zelda, just not in Yawn of the Wild. <_<


---
RE: The Legend of Zelda (Series) - ShiraNoMai - Jun 16th, 2019

Man, too much distaste for Breath of the Wild going on in here! That game was fantastic, and I'm so excited to see it getting a sequel of sorts. Seems to be in the vein of a Majora's Mask, too, which they've said that it'll be darker in tone than. I wonder how so? In that timeline, Link was dead.

That aside, the Link's Awakening release seems cool, so I'll definitely play that when it launches soon.

Also, Cadence of Hyrule is fucking dope! I've been watching gameplay of that and it's got the dopest fucking music I've ever heard.




---
RE: The Legend of Zelda (Series) - queenzelda - Jun 17th, 2019

I'd say you like it because Breath of the Wild is more geared towards western audiences. It's open world &, all the things that everyone else has wanted since the first Zelda game. Personally; I'm more of a fan of the way Zelda was, like with Link's Awakening & not the westernization of it as of late.

"


---
RE: The Legend of Zelda (Series) - Dragon Lord - Jun 18th, 2019

I'm not too interested in Skyrim with a LoZ skin myself (though that's not fair to Skyrim, at least Skyrim actually had puzzles in it, even if they weren't very complicated). Abandoning most of what made the LoZ series interesting to make it into an empty open world game with shallow, dull combat isn't something that I'm interested in investing in.

900 Korok Seeds isn't a really good trade off for dungeons, puzzles and item variety.


---
RE: The Legend of Zelda (Series) - Moonface - Jun 18th, 2019


(Jun 16th, 2019, 11:03 PM)

ShiraNoMai Wrote:
I'm not well versed on the timeline and story of LoZ, but you play as Link in MM, so how is he dead yet playable?

(Jun 18th, 2019, 05:03 AM)

Dragon Lord Wrote:
It's tough to decide how I feel about the Korok Seeds. Having so many made it so you would be guaranteed to stumble across a good number of them while doing other stuff so you could at least increase some of your inventory space, but at the same time there was no incentive to ever find all 900. However, making less of them would make finding them all less time consuming (maybe) but then you've got to spend more time trying to find them if you want more inventory space, which is a neat thing but nothing so great that I would ever care to go out of my way to obtain it if I had to really hunt for them because the world now only has 100 of them and so they're spread out thinner and rarer to stumble across.

OoT's spider hunting thing was neat, and there wasn't a grossly huge amount of them to find, but that world was also smaller so having less didn't make them feel sparse, which is what would happen lowering the Korok Seed numbers in BotW. I'd be fine with a Korok Seed mechanic not returning and having inventory space increases tied to something else, but if it did come back then I don't know how it could be improved without creating more problems. 900 is a flawed amount to complete, regardless of the final reward, but it also works to make sure you're not struggling to at least find a decent number of them. Maybe they should give you rewards for every certain amount of them that are worth the effort, with some being unbreaking weapons but nothing more powerful than the breakable stuff so it isn't OP. Make it more powerful when you start hitting very high numbers, so that you can't just get OP gear without needing to put in a lot of work.


---
RE: The Legend of Zelda (Series) - Dragon Lord - Aug 10th, 2019

Honestly they need to get rid of weapon durability (it was a stupid idea to ever incorporate this into a LoZ game). Bring back a larger item variety -- especially series staples like the Boomerang, Hookshot, Hammer -- hell, maybe even bring back a mix of more classic items like the Fire/Ice Rod, Flippers/Scales for swimming, Cane of Somaria, among many other things they could bring back to return that item variety to the game.

They can keep the style of Breath of the Wild, but get back to what makes LoZ what it is. Dungeons, item variety, puzzles revolving around said item variety, bosses revolving around said item variety.

One of the most fun things in previous LoZ games was screwing around with different items and seeing what you could use to fight bosses. Like being able to hit Ganandorf's magic back at him using a bottle in OoT, or being able to take down bosses in ALttP with different items that you might not have though of using (this is something I've really gotten to see showcased in ALttP Randomizer races, and it's been really awesome seeing some of the strats used to take down bosses without having the normal items you would need for them).

tl;dr: Keep the artistic vision of BotW and even the open world if you want, but add back everything that made the series what it was at the same time.


---
RE: The Legend of Zelda (Series) - Moonface - Aug 12th, 2019

The Fire/Ice Rod was in BotW, although reading up on how it worked in older games I like how they deplete magic/energy bars. Having items with different stats that affect your stamina usage and other things would be better than durability. It would encourage people to still look and strive for better items, whereas the durability system is basically a matter of having to look through necessity, rather than want. Plus I hate that a lot of puzzles in BotW required you to use a weapon, which would deplete the durability. You'd have to load up on hammers and clubs for shrines just so you didn't run out. I'd rather it be that the item stats are what determine it, like Bloodborne for example.

BotW had plenty of screwing around, but I found it was only applicable for traversal or regular enemy encounters. Boss fights were often tailored a certain way that while you could try other methods, there wasn't much incentive to unless you were bored or trying to find some speed run tactic like people did for fighting Calamity Ganon.


---
RE: The Legend of Zelda (Series) - Moonface - Sep 23rd, 2019

So @ShiraNoMai and I bought Link's Awakening at the weekend and for my experience so far, it's pretty good. Excluding the second dungeon, I've been liking the puzzles they have. Combat is OK; I think BotW did it better overall compared to this one so far. Visually I love the art style. It's different, but I think it works. The new 2D sections that have Mario enemies in them are neat.

Only complaint I have so far is the story. It's very bare bones like BotW so far, if not worse, because it's just boy washes up on shore and collects instruments to open an egg to leave the island. There hasn't even been any notable story stuff since I started the game; it's just been a constant fetch quest.


---
RE: The Legend of Zelda (Series) - queenzelda - Sep 23rd, 2019


(Sep 23rd, 2019, 07:50 PM)

Moonface Wrote: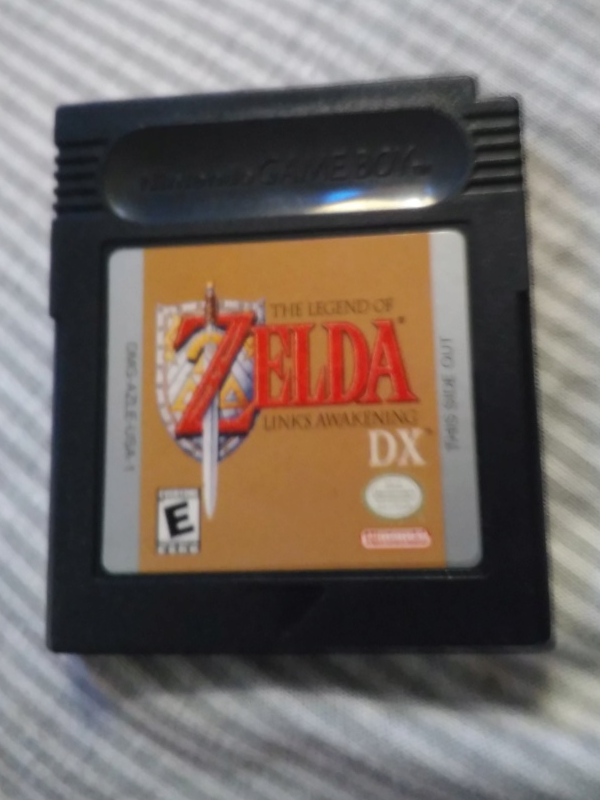 Haha, that's just the way the original was & all the remaster did was give you your items set to certain buttons. In the original, you set those very same items to the buttons yourself.

Those very same enemies are also from the original. According to sources, Link's Awakening is a sequel to Link to the Pastracle of Seasons, and Oracle of Ages. :3


---
RE: The Legend of Zelda (Series) - Monocle - Sep 24th, 2019

I want to get it but I can't justify paying $60 for a GBC remake which clocks in at 10 hours completion time. Nintendo is absolutely ridiculous. None of the improvements and additions are worth paying AAA

NEW

game prices for that. absolutely not.


---